25/08/2020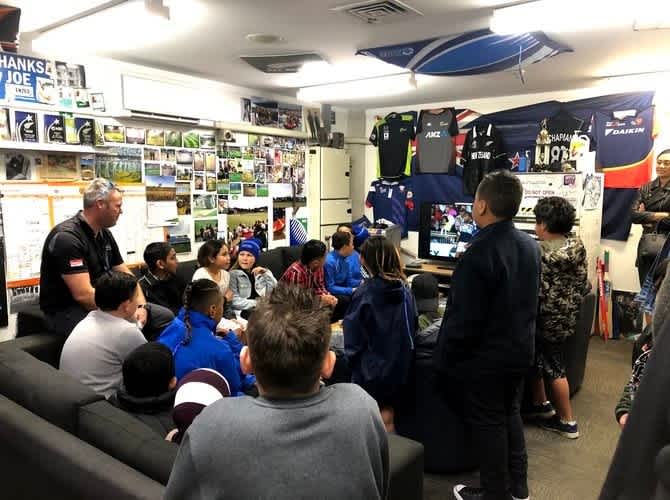 We love supporting our community and wanted to do something big for sport's littlest fans. With help from our friends at Eden Park, we took the winner of our Big Little Sponsorship, Manurewa West Primary School, out for the best day ever at the best stadium ever – Eden Park.
A big deal for little teams
Our Big Little Sponsorship celebrates our partnership with Eden Park by giving back to the community and championing grassroots sport. The initiative is designed to provide deserving Auckland primary schools a much-needed boost to help shape some of our sporting stars of the future.
In November last year, with the help of our Big Little ambassador, Keven Mealamu, we surprised Manurewa West Primary with $10K worth of sports gear and the news that they would be receiving a field upgrade, courtesy of the Eden Park 'groundies', and a VIP behind the scenes tour of Eden Park – all part of their Big Little Sponsorship prize.
This year, children have missed out on a lot due to COVID-19 and lockdown, with many sports games and school field trips being cancelled. Because of this, we wanted to do something extra special for our Big Little Sponsorship 2019 winner, Manurewa West Primary School.
So, we hosted 40 students, parents and teachers at the Super Rugby Aotearoa Blues vs Chiefs game at Eden Park on Sunday 26th July. They thought they were just going to the game, but we had other ideas.
Best day ever, at the best stadium ever
To kick off the day, we picked the group up from Manurewa West Primary in a personalised bus! Upon arrival at the park, the fun really began, and the surprises continued.
We captured the VIP experience on video, so you can join in the fun:
Have a question for us?
Find out why we're consistently awarded best insurer and most satisfied customers:
Make an online enquiry
Call us on 0800 500 231
8am-8pm Monday to Friday.  8am-6pm weekends & holidays