24/02/2020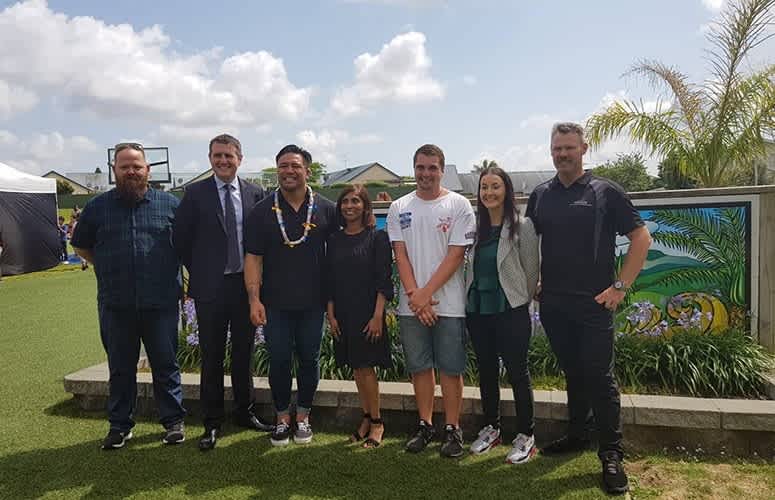 With the support of our partners, Eden Park and campaign ambassador, Keven Mealamu we called for nominations of deserving Auckland Primary Schools to win the ultimate sports boost! $10,000 worth of sports gear, a field upgrade by the Eden Park team, a school visit from rugby legend Keven Mealamu and a VIP experience at Eden Park for 20 lucky students.
A record number of nominations
Last year we received 1,756 nominations for 280 deserving primary schools, a 76% increase in nominations and a 40% increase in schools from the 2018 Big Little Sponsorship. This was narrowed down to just 10 finalists after entries were each evaluated against the judging criteria. The difficult job of selecting just one winner was up to our judging panel, made up of representatives from AA Insurance, our campaign ambassador and former All Black, Keven Mealamu and the Eden Park Commercial Manager, Ben Svensen. AA Insurance judge, Andy Air, commented "there's so much need in the community and every finalist was deserving. Many nominations resonated with me, mentioning only one ball per classroom or not being able to spend funds on sport. They really demonstrated the need for this kind of support."
And the 2019 winner is…
Congratulations to Manurewa West Primary School, our winner of the Big Little Sponsorship 2019. Manurewa West Primary School is a decile 1 school with 540 students. They received 24 nominations from across their school community. Trent Rosewarne, the Sports Learning Assistant at the school spread the word within the school and encouraged members of the school community to submit nominations. As part of his nomination he mentioned how "this school loves sport, but don't have the opportunities or equipment. The Big Little Sponsorship would be a massive help to a super grateful and appreciative school!"
A big reveal for our little winners
What better way to announce the 2019 winner than with a surprise! On the morning of the big reveal, we were warmly welcomed into the school community as special guests of their usual Friday assembly. We were greeted with an official mihi whakatau (welcome) and kaikaranga (call into the school hall), followed by singing the national anthem together. After a few introductions,
AA Insurance Brand and Media Marketing Manager, Catherine Dilly, Eden Park Trust, CEO – Nick Sautner and Campaign Ambassador – Keven Mealamu, made the big announcement together: "Congratulations Manurewa West Primary School, you're the winners of the 2019 Big Little Sponsorship!"
The announcement was met with excitement and celebration from the school community. Campaign ambassador, Keven Mealamu, then spoke to the school about the important role sports plays in school and the community. He commented "it's good for kids to play sport: they talk to people and learn to work together. They learn respect for their teammates and opposition, and that it takes hard work to achieve something worth achieving."
The assembly ended with a few words from the school Principal, Kogie Naidoo and a performance from the school choir of 'Don't Stop Believing' before we all went outside to enjoy the beautiful weather. An added touch to this year's reveal were some wonderful smoothie bikes and fresh fruit kebabs for the kids to enjoy!
Congratulations Manurewa West Primary School. We can't thank the staff, students and wider school community enough for the special welcome we received (the team haven't stopped talking about the amazing morning or the great singing at assembly!).
We can't wait to check in and see how the sports gear, field upgrade and VIP Eden Park Experience goes. Keep an eye out for updates on the next Big Little Sponsorship and the chance to win big for your community and click below to watch the reveal!
Have a question for us?
Find out why we're consistently awarded best insurer and most satisfied customers:
Make an online enquiry
Call us on 0800 500 231
8am-8pm Monday to Friday.  8am-6pm weekends & holidays