13/12/2016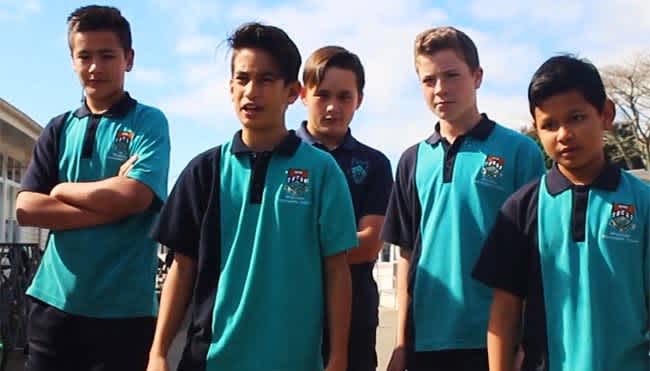 Children from Whakatane Intermediate came up with such a creative way to combat bullying that they scooped the top prize in their age category at this year's Blue Light video competition.
Now in its third year, the competition offers primary, intermediate and secondary students the chance to not only help other students in a positive way, but to also win a share of the $3,000 cash prize for their school.
Blue Light is a registered charity and community organisation that aims to build positive youth and police partnerships. The competition, which is sponsored by AA Insurance, is part of a national anti-bullying campaign called BetheChangeand emphasises the need for everyone to be ethical by-standers to eliminate bullying in our communities.
The competition drew around 50 entries from throughout the country. This year's underlying theme was A small gesture goes a long way, and judges said Whakatane Intermediate kept this in mind when they wrote, acted, filmed and edited their piece using emojis to show how children are affected by the way others treat them.
Winner of the secondary division was Dunedin's Columba College for their clip on the damage social media bullying can do, while the primary division went to Wanganui's Alberfeldy School for their super heroes theme.
Josh Thomson, Marketing Specialist for AA Insurance, was on the judging panel and says the overall caliber of entries was outstanding.
"The way these children interpreted the theme, and came up with creative ways to convey their messaging was mind-blowing. It made our job as judges all the more difficult when choosing our winners.
"Bullying is often hard to talk about, and can involve not only the victim and bully, but also by-standers," he says. "That's why this competition is so important, because it gives teachers and students the opportunity to talk about this issue openly and then look for ways to tackle it."
Have a question for us?
Find out why we're consistently awarded best insurer and most satisfied customers:
Make an online enquiry
Call us on 0800 500 231
8am-8pm Monday to Friday.  8am-6pm weekends & holidays