13/11/2023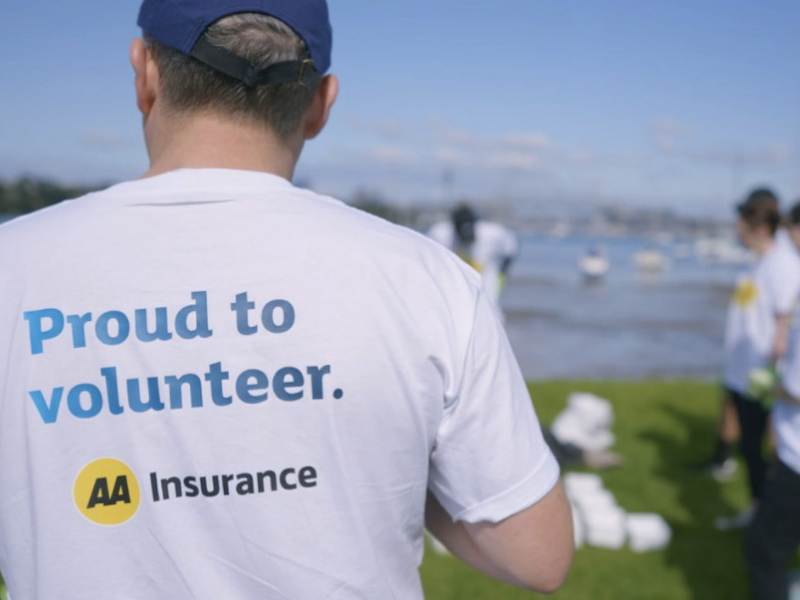 The festive holidays may be the season of giving, but, at AA Insurance, we take great joy in supporting our communities by giving back all-year-round. After another busy year, we wanted to share a round-up of some of our favourite ways we've helped support the things you care about.
Helping more Kiwi kids to thrive with Variety
As the Lead Partner of Variety – the Children Charity's Beds for Kids Programme, we're committed to helping provide more Kiwi kids with a warm and snug place to sleep. This year, we donated 100 bedding packs to Variety's Winter Appeal, bringing the total you've helped provide since launching our partnership to 200 bedding packs and 51 beds. Variety is continuing to help tamariki throughout New Zealand experience the joy of Christmas this holiday season. Visit their website to find out how you can help.
The Big Little Sponsorship, in partnership with Eden Park
2023 saw our biggest Big Little Sponsorship yet! We went nationwide asking you to nominate primary schools who deserved a $10,000 sports grant to help their littlest athletes play a little freer, and boy did you deliver, with over 4,600 great nominations for 1,201 schools! Congratulations to our lucky winners Arakura School in the North Island and East Gore School in South Island, our second-place winners Eskdale School and Franz Josef Glacier School, and third place winners Pakowhai School and Russley School. Find out more about the Big Little Sponsorship 2023.
AA Insurance's Give Back Shack
AA Insurance's Give Back Shack launched at Eden Park this year. The shack allows us to 'give back' to deserving community organisations, charities and local groups by giving them use of our iconic shack for sporting events hosted at the national stadium. We've already had a few community groups through from the Big Brothers Big Sisters of New Zealand (BBSS), Graeme Dingle Foundation and Silverdale Volunteer Fire Brigade – keep an eye out for more on the Give Back Shack in 2024!
Our Motor Apprenticeship Scheme
Our AA Insurance Sponsored Apprentice Scheme continues to provide a much-needed pipeline of talent for the collision repair and refinishing industry. Beginning in Auckland in November 2017, the scheme has provided both financial and mentoring support to apprentices as they work towards full qualification in these trades. AA Insurance Supplier Performance Managers mentor scheme participants, passing on valuable skills and knowledge and are currently supporting six apprentices.
Supporting the Red Cross Disaster Fund
After a hard start to the year with many Kiwis impacted by weather events across Aotearoa, our people were proud to support affected communities with a $13,000 contribution to the New Zealand Red Cross Disaster Fund. GM of People & Capability, Nikki Howell, said, "The back-to-back weather events caused enormous devastation across the country and our teams wanted to do more to help communities in need. AA Insurance pledged to match any employee donations to Red Cross, dollar for dollar, to double the impact. Our people came together to raise over $3,000 for Red Cross, and we extended our contribution to $10,000 to further contribute to the great work Red Cross was doing to support impacted communities."
Wheels of Hope
Our Motor Supplier Team worked with Phil and Maria Wilkens, owners of DJ Mac Panel & Paint – one of our Quality Repairers in Gisborne on this project. They sourced, repaired and reconditioned a written off vehicle to be donated to a local family who were significantly impacted by Cyclone Gabrielle. Following a difficult few months for the selected family, Steffanie and Shane Miller, we also offered them a 12-month comprehensive motor insurance policy to help get them back on their feet. Find out more about the Wheels of Hope.
On the ground support during the severe weather events
Following the devasting impact from Cyclone Gabrielle and the Auckland Anniversary flooding, AA Insurance teams travelled around the country to local community hubs, civil defence centres and nearby AA Centres to offer in-person support to customers.
Cherie Barratt, Head of Claims Services and a passionate Hawke's Bay local, said, "People are at the heart of what we do at AA Insurance. Seeing our people come together and support our customers in their time of need was incredible. We would also like to acknowledge our partner AA New Zealand who has opened its AA Centre doors for our team to be on the ground supporting our customers in the Hawke's Bay. We're in this together, and for the long haul!"
Helping Sustainable Coastlines to protect our oceans
As part of our community partnership with Sustainable Coastlines, a team of AA Insurance volunteers and more than 100 community volunteers enjoyed a Saturday in the fresh air at a clean-up event at Orangihina Park in Te Atatū Peninsula. The team removed an incredible 1,000 litres of rubbish during the clean-up! Beach clean-ups are central to Sustainable Coastlines mahi, to inspire change and prevent new litter from entering our marine environments.
And it doesn't stop here...
The year may be coming to an end, but we are excited to continue supporting your communities and things you care about. Keep an eye on our Partnerships and Sponsorships and Customer Hub for more information on what's coming up for the year ahead!
Have a question for us?
Find out why we're consistently awarded best insurer and most satisfied customers:
Make an online enquiry
Call us on 0800 500 231
8am-8pm Monday to Friday.  8am-6pm weekends & holidays