07/04/2017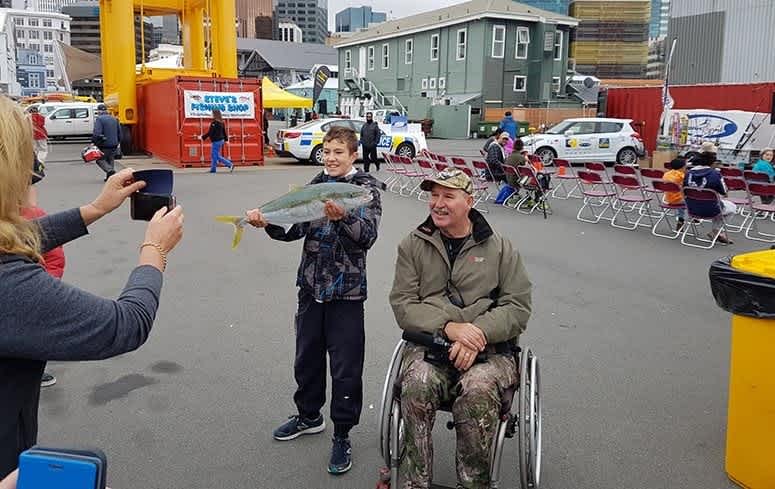 The national Blue Light Kids' Gone Fishin' series kicked off with a record turnout in Auckland earlier this year. Thousands of fishers, little and big, lined the wharf at Wynyard Quarter during the city's Anniversary weekend to try their luck.  Two months later a smaller, but no less enthusiastic, crowd of over 200 people, and a few dogs, enjoyed the family day out at the Wellington event on Queens Wharf.
No matter the location, most parents were pleased they could actually get their kids outdoors and away from the computer. And while only a few snagged 'the big one' destined for the fry pan, most were content – if not a little excited – by scoring a few nibbles or releasing 'the little ones' back into the harbour.
In Auckland baby snapper, and a least one stingray, were no doubt delighted to live another day, while in Wellington a 1.6m conger eel and a giant starfish - measuring 44cm -  were given their own second chance. Not so much the gurnard, terakihi and kingfish.
New Zealand Blue Light runs activities throughout the year to keep young people free from drugs, alcohol and violence, and Kids Gone Fishin' is one of their most popular events that's held annually. 
AA Insurance has been Blue Light's principal sponsor since 2010, and involved in the Auckland Kids' Gone Fishin' event from the beginning. This year we decided to get on board with the events' national sponsorship, and extend our involvement by helping Blue Light deliver all 13 free events to families throughout New Zealand.
More fishing events means more opportunities for Kiwi kids to experience something new in a safe environment, build positive relations with their parents or caregivers, police and community, and most of all, have fun!
Check out the rest of the locations below (times to be posted as they're confirmed), and keep an eye on our Facebook page for more updates.
Date
17 July 2017 - Taupo - 10am to 12noon
24 September 2017 - Christchurch - TBC
8 October 2017 - Picton / Marlborough - 10am to 2pm
5 November 2017 - Tauranga - 10am to 12noon
12 November 2017 - Raglan - TBC
2 December 2017 - Chatham Islands - TBC
Have a question for us?
Find out why we're consistently awarded best insurer and most satisfied customers:
Make an online enquiry
Call us on 0800 500 231
8am-8pm Monday to Friday.  8am-6pm weekends & holidays