07/04/2022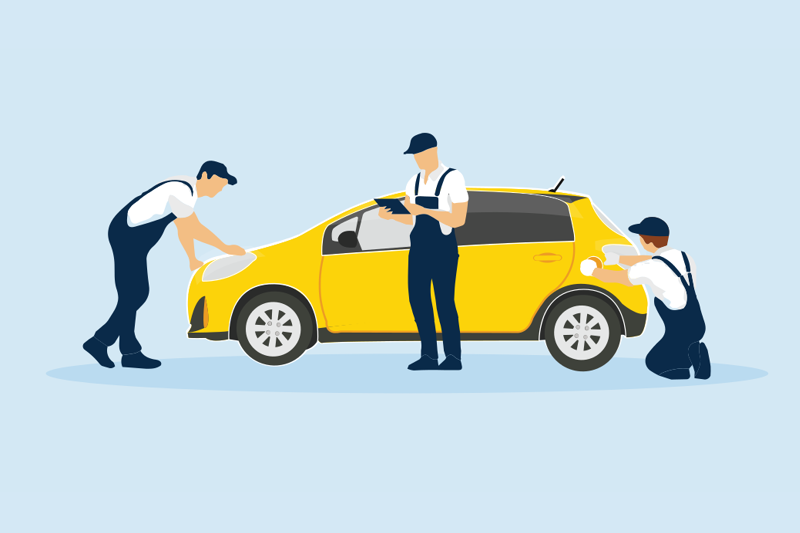 It's good to know what to expect if you need to make a claim on your car insurance policy. Here's a breakdown of the claims process.
Why get car insurance?
Insurance is all about making sure your stuff is covered in case something goes wrong. When disaster strikes, from a car park ding to a much larger accident, car insurance can protect you from potentially huge repair bills or being left without a vehicle.
When should I claim?
You can lodge a claim with your insurance company when your car is damaged or stolen, or if you are responsible for damaging somebody else's property or car. What you're covered for will depend on the level of cover and policy you have. AA Insurance offers three levels of cover:
Comprehensive - covers damage to your car, as well as damage you might cause to someone else's car or property.

Third Party, Fire & Theft - cover for your car if it is damaged by fire, stolen, or you accidentally damage someone else's car or property with your vehicle.

Third Party - covers you for damage you may cause to someone else's car or property, for example if you accidentally hit their fence.
First things first
Assess the situation: if you have been in a car accident, stay calm and make sure you and everyone else at the scene are out of danger, then call the Policeif you need to.

Get details: exchange contact details with the other driver(s) and any witnesses. Write down the registration number, make and model of any other car involved. Take pictures of the other car and the damage.

Don't accept blame: if your claim involves damage to someone else's property, or injury to someone else, don't admit fault, but rather, let your insurer assess the situation first.
The claims journey
When you're ready, give us a call on 0800 500 216 or start your claim online. The sooner you get in touch, the sooner we can help. We may need your policy number or personal details to locate your relevant policy.

You'll be given a claim number and a Customer Manager who will review your claim, answer any questions you may have and keep you informed about the progress of your claim.

Once the claim has been accepted, in most instances we'll ask you to pay your excess. For every insurance claim, you pay a contribution towards the cost and your insurer pays the rest.

If your vehicle is drivable, we'll arrange a suitable time for you to take it to one of our Customer Service Centres, or a local repairer to be assessed. For customers with the rental cover benefit on their Comprehensive Car Insurance policy, we will provide a subcompact rental vehicle while your vehicle is being repaired or we determine your claim is settled.

If your vehicle is repairable, it will be well-looked after by one of our approved and trusted quality repairers. We offer a lifetime repair guarantee when your vehicle is repaired by one of our AA Insurance Quality Repairers. This includes the quality of workmanship, parts and materials used to complete the repairs for your claim.

If your vehicle is unrepairable, written off or stolen, we will pay you the agreed value, minus the excess and any outstanding premium and on-road costs. That's the amount we agreed to insure your vehicle for and should be enough for you to buy a replacement with the same specifications.

Once we've repaired or replaced your vehicle or you have received final payment, we'll close your claim and may ask for feedback on your experience.

If your vehicle was a total loss and written off, you'll also need to start a new insurance policy to ensure your new vehicle is covered. We can get this sorted over the phone or via our website. You'll be back on the road in no time!
Want to learn more?
If you're looking for further information about our claims process or would like to find out more on simplifying insurance, check out our other blogs.
Any questions?
Now's a great time to review your insurance. We recommend checking your details are up to date and ensuring the policy and cover you've chosen is right for you and your insurance needs.
If you have any questions about your insurance, need to update your AA Insurance policies or would like a quote, don't hesitate to contact us. We're open from 8am to 8pm weekdays and from 8am to 6pm weekends and public holidays.
This blog provides general information only and is not intended to be a recommendation or personalised financial advice. Excesses, terms, conditions, limits and exclusions apply to AA Insurance Limited's policies. Please check the policy wording for details of cover. The provision of cover is subject to the underwriting criteria that apply at the time.
Have a question for us?
Find out why we're consistently awarded best insurer and most satisfied customers:
Make an online enquiry
Call us on 0800 500 231
8am-8pm Monday to Friday.  8am-6pm weekends & holidays