28/04/2022
There are a number of ways in which your contents claim can be settled. 'New for old' is one of them, so let's take a closer look at what is meant by this insurance term.
What does 'new for old' replacement cover mean?
If your insurer provides new for old cover, they will do their best to replace your contents with a new, like-for-like item, or the nearest available equivalent when you make a claim. Your insurer will find a replacement that is readily available in New Zealand with the same functions, characteristics and specifications. This could mean that the nearest equivalent item may not necessarily have the same brand, price, model or colour of the damaged or lost item, but it will still match the functionality of the item being replaced. For more information refer to the 'How we will settle your claim' section of your policy documents.
Most items are covered new for old, but there are some exceptions, such as clothing, footwear, cosmetics or items that don't have an equivalent replacement available. Those will be settled at the market value, which is the reasonable retail value of the items immediately before they suffered a loss under the policy, such as theft, accidental loss or damage. The market value amount is based on the condition of the item immediately prior to the loss, its make, model, age and capability, with due allowance for wear, tear, depreciation and prior maintenance.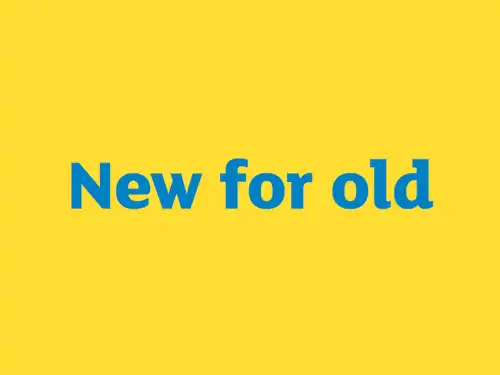 An example of new for old
Charlotte's handbag was stolen from her friend's car. In it, she'd left the cell phone she purchased six months ago, half a bottle of perfume and what was left of her favourite lipstick. She lodged a claim with her insurer and was able to supply proof of ownership for the items in the form of receipts. Thanks to the new for old replacement cover, she quickly received a cell phone of the same model, colour and specifications as the one that was stolen. The perfume bottle and the lipstick were settled at the market value, a financial contribution to help her buy the same products again.
Key takeaways
Different insurers have different types of contents products. At AA Insurance our contents policies are settled new for old which means that, if something you own is accidentally lost, stolen or damaged beyond repair, the item will be replaced with a new one or with the nearest available equivalent. While most items will be replaced by new for old, certain items will be settled at the market value, such as clothing, footwear, cosmetics and items that don't have a nearest equivalent item available.
Any questions?
Now's a great time to review your insurance. We recommend checking your details are up to date and ensuring the policy and cover you've chosen is right for you and your insurance needs.
If you have any questions about your insurance, need to update your AA Insurance policies or would like a quote, don't hesitate to contact us. We're open from 8am to 8pm weekdays and from 8am to 6pm weekends and public holidays.
This blog provides general information only and is not intended to be a recommendation or personalised financial advice. Excesses, terms, conditions, limits and exclusions apply to AA Insurance Limited's policies. Please check the policy wording for details of cover. The provision of cover is subject to the underwriting criteria that apply at the time.
Have a question for us?
Find out why we're consistently awarded best insurer and most satisfied customers:
Make an online enquiry
Call us on 0800 500 231
8am-8pm Monday to Friday.  8am-6pm weekends & holidays