04/09/2017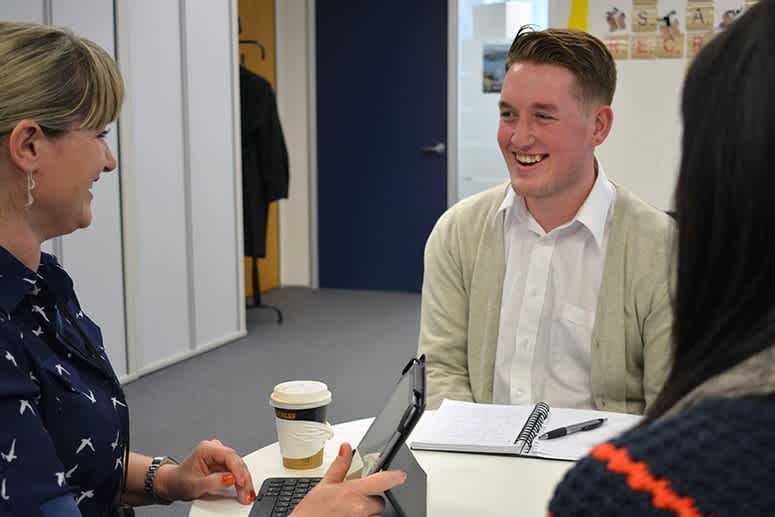 There are more ways to be a responsible corporate citizen than having your people plant trees or volunteer for charities. While giving time and raising money is amazing, often it can be about opening the company's doors and inviting others in to be part of the business for a period of time.
AA Insurance does have its own Make A Difference group, that's bursting at the seams with volunteers and doing great things, but we've recently had the opportunity to work with tertiary qualified students with access needs - or a disability - through an internship programme.
Be. Employed, from the Be.Institute, is described as "a dynamic accessible employment movement" that acts as a broker between employers and students who want to gain relevant and meaningful work from four to 16 weeks.
Now, without blowing our own trumpet, AAI has been recognised as one of NZ's best workplaces since 2008. This is pretty much because of our amazing people, and our workplace culture, which is based on our values of being genuine.  Living these has helped create a familial feeling where you look out for each other, can grow, be heard and supported. 
Diversity and inclusion is a key element of our People Strategy and reflects the variety of people working at AAI. It acknowledges that everyone is unique by differences in age, gender, cultural background, sexual orientation as well as physical and intellectual ability.
So, it became obvious that the Be.Employed initiative aligned well with our genuine culture and values, and it ticked a lot of boxes for us as a business. Employing an intern meant that we could tap into a new potential talent pool and highlight AAI as a diverse and inclusive employer.
Luke McDowall is our first Be.Employed employee. He graduated last year from Massey University with a double major in psychology and philosophy and a minor in HR – so he's really interested in the psychology of learning and development as well as the employee wellbeing aspect of HR. He's also a member of the Roller Blacks, the men's wheelchair basketball team representing New Zealand, as well as the captain of an under-23 team.
People with access needs are among the largest untapped skilled employee market in the world. According to Be.Employed, access individuals make up 20% of our employee market, which equates to about one in five working Kiwis.  In New Zealand, more than 60% of people with access needs are unemployed or underemployed; that's an estimated $11.7b opportunity cost, or perhaps loss, by excluding this workforce!
As a company, we invest in our people and are constantly looking at how we can anticipate their needs in terms of providing a challenging, rewarding and engaging environment.  We're creating the environment needed for them to flourish. We've already seen Luke flourish one month into his four-month internship of authentic, on-the-job experience. At the same time, we've also benefited from Luke's HR insights, and his being part of the team. It's literally a win-win situation for everyone.
We plan to continue working with Be.Employed to find more talent like Luke to work within our business.  So, as they say "watch this space"!
About AA Insurance
AA Insurance is an independently operated, New Zealand-based joint venture between the New Zealand Automobile Association (NZAA) and Vero Insurance New Zealand Limited (VINZL). Since 1994 we have demonstrated trusted expertise in home, contents and car insurance in New Zealand, and in 2018 introduced commercial small business insurance. We underwrite our own policies and sell direct to New Zealanders. Our 930+ staff look after over 480,000 customers with 970,000 policies.
We proudly partner with Variety NZ and Eden Park and have been consistently recognised by: Reader's Digest Most Trusted Brands (since 2011) and Quality Service Awards for Car, and Home and Contents Insurance (since 2015), Kantar Customer Leadership Index (since 2019), Canstar Blue Most Satisfied Customers (2011-2018), and the Colmar Brunton Corporate Reputation Index (since 2015) that recognises New Zealand's most successful companies. AA Insurance was also named Consumer NZ People's Choice award winner for car, home and contents (2019 and 2020).
AA Insurance has an AA- (Very Strong) Insurer Financial Strength Rating given by Standard and Poor's (Australia) Pty Ltd. For further information visit aainsurance.co.nz.
For more information please contact:
Media Team, AA Insurance, 027 406 1787, mediacontact@aainsurance.co.nz