05/03/2018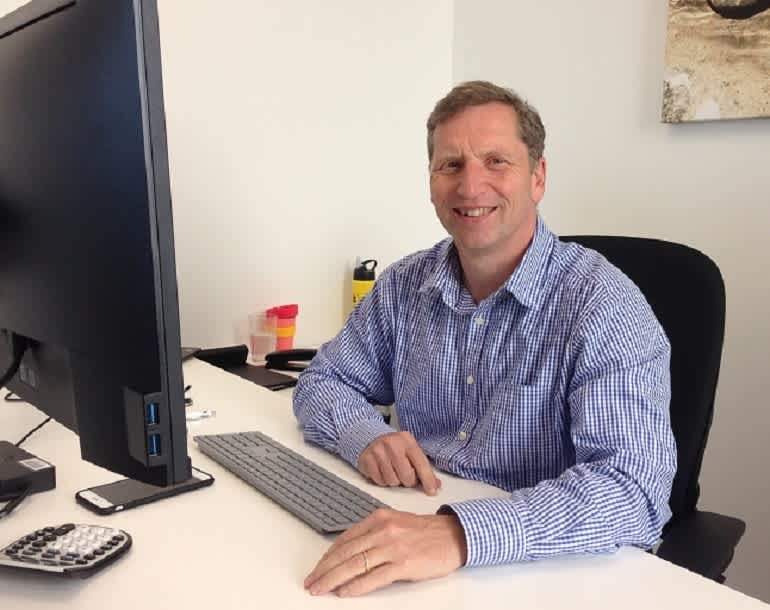 We have a history of developing and promoting our own people at AA Insurance; I guess that's why we have such a great track record for staff longevity.  So when we were looking for the next member of our Executive Team to take over finance, we looked inward, rather than outward, to someone who knew the business inside out, showed incredible loyalty and aptitude when times were tough, and who had the right mix of insight and skill as well as being a genuinely nice person. This last quality often falls off the radar when hiring, but to us, it's one of the most important when working with someone, and Martin Chisholm has it in spades. 
So, from March 5, Martin will take up his new role as Head of Finance, from the late and dearly missed Jacqui Thompson.  Martin is no stranger to our finance team; he was CFO for six years and worked with Jacqui from 2012. During this time, he had significant responsibility in dealing with the Executive, regulators, reinsurers, rating agency and in attending Board and subcommittee meetings.  These opportunities have meant he's already well known to these individuals and organisations ahead of moving into this role, so the transition will be a smooth one.
The Executive Team and Board unanimously agreed that Martin has the experience, ability and character to lead his department, and the company, forward financially. We often refer to the writing of Jim Collins, about having the right people on the bus, and in the right seat. Martin is well and truly on that bus, in that seat, and helping move the AA Insurance bus (which now have almost 700 people on-board) forward.
He started his career, after gaining a degree in MORSE. No, not Morse code, but Mathematics, Operational Research, Statistics and Economics. This led to an audit role with Coopers & Lybrand (now PricewaterhouseCoopers) in London, specialising in insurance.
From there, he met a New Zealand audit partner in London who, after a brief discussion, offered him a role in Auckland for two years.  So, he arrived in 1990 not knowing a soul, and wondering what on earth he had done.  But things obviously went well, as five years later he moved to Sydney with C&L as a technical insurance manager. 
For personal reasons, he headed back to the UK and worked for a pet insurance company before several roles at Royal & Sun Alliance, including systems implementation, process improvement, restructuring and business partnering. He also worked on SAP implementations for Zespri in New Zealand and GE in London - with one boss in Munich and one in Kansas. Returning to New Zealand, he worked for GE Money before joining AA Insurance in 2007 and, as the saying goes, the rest is history!
But it's not all numbers for Martin. As with so many of our people, they appreciate a great work life balance. Apart from Martin's obvious passion for his career, and family, he's also a keen sportsman, and over the years has competed in swimming, judo, squash and ultimate frisbee!
So, with those fine attributes we warmly welcome Martin into the Executive team. He has been, and continues to be, a vital part of AA Insurance, and I look forward continuing to work with him.
About AA Insurance
AA Insurance is an independently operated, New Zealand-based joint venture between the New Zealand Automobile Association (NZAA) and Vero Insurance New Zealand Limited (VINZL). Since 1994 we have demonstrated trusted expertise in home, contents and car insurance in New Zealand, and in 2018 introduced commercial small business insurance. We underwrite our own policies and sell direct to New Zealanders. Our 930+ staff look after over 480,000 customers with 970,000 policies.
We proudly partner with Variety NZ and Eden Park and have been consistently recognised by: Reader's Digest Most Trusted Brands (since 2011) and Quality Service Awards for Car, and Home and Contents Insurance (since 2015), Kantar Customer Leadership Index (since 2019), Canstar Blue Most Satisfied Customers (2011-2018), and the Colmar Brunton Corporate Reputation Index (since 2015) that recognises New Zealand's most successful companies. AA Insurance was also named Consumer NZ People's Choice award winner for car, home and contents (2019 and 2020).
AA Insurance has an AA- (Very Strong) Insurer Financial Strength Rating given by Standard and Poor's (Australia) Pty Ltd. For further information visit aainsurance.co.nz.
For more information please contact:
Media Team, AA Insurance, 027 406 1787, mediacontact@aainsurance.co.nz