06/08/2018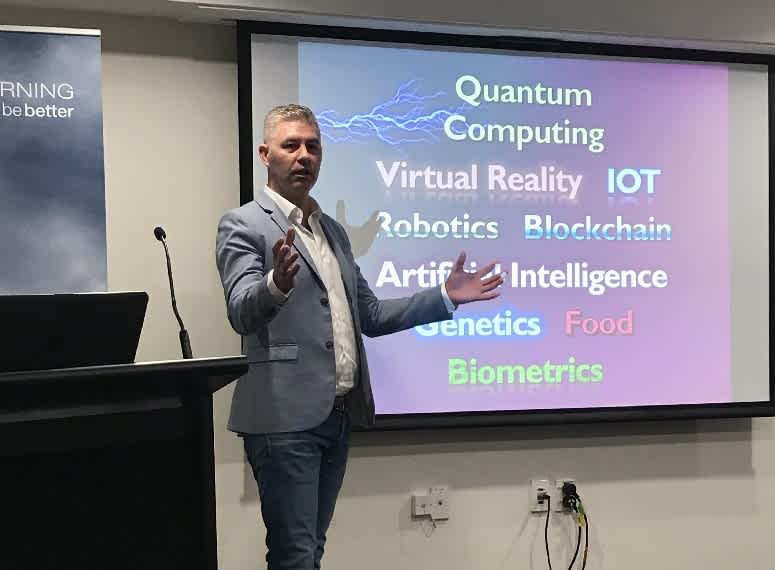 I recently had the opportunity to speak at a Liquid Learning conference for leaders who are perhaps five or 10 years into their careers.
The purpose of the conference was to share what someone with my grey hairs has learned along the way with those who will, hopefully, have long and rewarding careers in New Zealand, and perhaps the rest of the world.
I know when I started out in the UK, I wouldn't have guessed that nearly 20 years later, I'd be telling people my journey in a hotel in Auckland, New Zealand.
I spoke about leading change, and the first thing I wanted to do was establish whether we should care about being good at leading change - instead of other areas like understanding the financials, or having solid business acumen, or being fantastically innovative.
In the accompanying photo, you'll see I'm standing next to a slide with Quantum Computing and Biometrics written on it. I was making the point that the number and rate of changes coming at us is like nothing we've seen before in human existence.
Consider that it took over 50 years to reach 50% household adoption of the telephone in the US, while the tablet only took three years. Or that Tinder took the majority of the online dating market in the US in 12 months - a market that had taken other contenders over a decade to build and perfect. So, yes, leading change is going to be crucial. Change is one of the few constants to be found in all companies, big and small.
I then wanted to convey the following few messages:
Ensure your organisation has a purpose. Why is it doing what it is doing? And, while you're at it, make sure you have purpose too?

Ensure your organisation has a strong and consistent culture, and that you fit it?
These first two are the conditions for creating change. Without them, an organisation dramatically reduces its chance of survival. Activity becomes scattergun; resources are wasted. Consistency of culture is crucial to maintaining trust and increases the likelihood that you will get something done.
The Tower of Babel is a story in the Bible, in which humanity communicates with a single language. So, having consistency of understanding, humanity sets out to build a tower that will reach Heaven. To thwart their efforts, God invents languages so they can no longer communicate and finish the tower. Consistency of culture is fundamental to increasing the likelihood that you can lead and make change.
The next message, was that if you've got the conditions correct, there are two big parts that you can play. The first is to grow, the second to contribute.
Growth and education are the most important exercises you can undertake to protect yourself from an uncertain future. The more you learn, network, reflect, journal, read, and train, the more you prepare yourself for the unknown.
And then you must give it all away. Jack Lemmon (from the film 'Some Like It Hot' with Marilyn Monroe and Tony Curtis) used to say that everyone in his life had helped him take the lift from the ground floor of his career to the penthouse suite of Hollywood, surrounded by the stars and lights of success. And therefore, his biggest responsibility was to send the lift back down.
The final message I wanted people to take away was that really, the only thing you can truly change is you. You're the one who can change whether you live in the UK or New Zealand. You can change your mind about working for an organisation with a toxic culture. You can change how much you grow; how much you contribute. You can change and you have immense power to do so whether you believe it or not. People change every day and, so can you.
About AA Insurance
AA Insurance is an independently operated, New Zealand-based joint venture between the New Zealand Automobile Association (NZAA) and Vero Insurance New Zealand Limited (VINZL). Since 1994 we have demonstrated trusted expertise in home, contents and car insurance in New Zealand, and in 2018 introduced commercial small business insurance. We underwrite our own policies and sell direct to New Zealanders. Our 930+ staff look after over 480,000 customers with 970,000 policies.
We proudly partner with Variety NZ and Eden Park and have been consistently recognised by: Reader's Digest Most Trusted Brands (since 2011) and Quality Service Awards for Car, and Home and Contents Insurance (since 2015), Kantar Customer Leadership Index (since 2019), Canstar Blue Most Satisfied Customers (2011-2018), and the Colmar Brunton Corporate Reputation Index (since 2015) that recognises New Zealand's most successful companies. AA Insurance was also named Consumer NZ People's Choice award winner for car, home and contents (2019 and 2020).
AA Insurance has an AA- (Very Strong) Insurer Financial Strength Rating given by Standard and Poor's (Australia) Pty Ltd. For further information visit aainsurance.co.nz.
For more information please contact:
Media Team, AA Insurance, 027 406 1787, mediacontact@aainsurance.co.nz