10/02/2023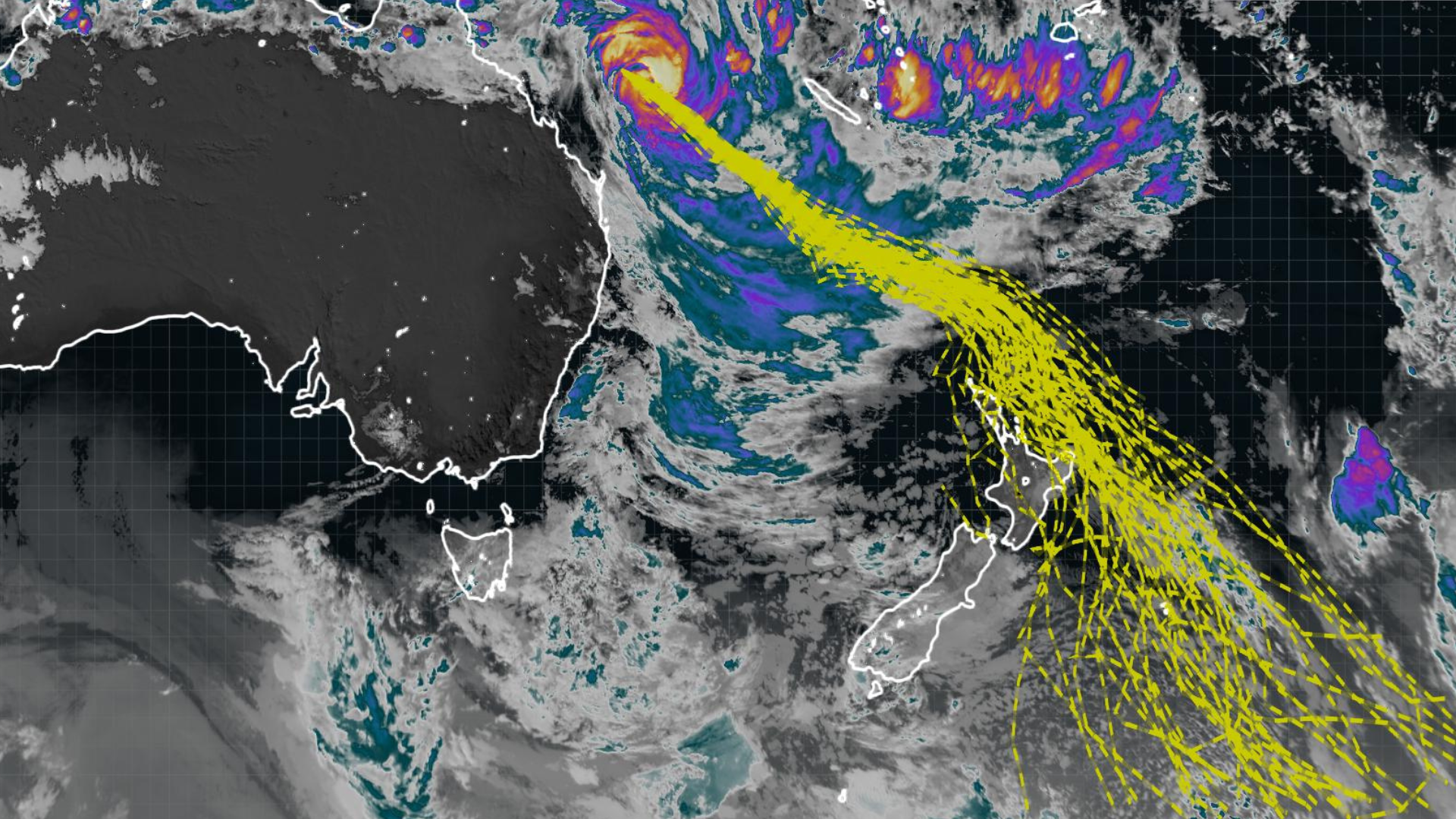 Image supplied by NIWA
As the North Island continues the clean-up from recent flooding, and with Auckland and Coromandel's State of Emergency extended as Tropical Cyclone Gabrielle approaches New Zealand, AA Insurance is reassuring customers it is here to help.
Aaron Dickinson, General Manager of Claims, AA Insurance said, "Our teams are standing by to assist customers should the cyclone cause additional damage to homes, vehicles or contents already impacted by the recent flooding. 
"Customers can simply contact us if they need help or advice assessing any new damage and we can work with them to lodge a new claim if they need to."
AA Insurance is also joining calls for people and communities to check their properties for loose items and debris and to secure or remove these if it is safe to do so.  
In severe weather events, the most common claims AA Insurance receives are related to flooding and wind damage.
"AA Insurance is also encouraging people to take all the usual precautions ahead of a severe weather warning – including checking the stability of the land around their properties which may have higher risk of slips following the recent downpours.
"We're reminding people to check in with neighbours and friends who live in isolated areas or who have been affected by flooding. The weather is unpredictable, and we don't know what the coming days will bring, but AA Insurance is always here to help if you need us," Aaron said.
AA Insurance's top tips to prepare for Tropical Cyclone Gabrielle:
During a severe weather event your safety and that of your family and pets must always come first – listen out for the latest updates and advice from the MetService, Civil Defence and local authorities. 

Check your property for loose items and debris and secure or remove these if it is safe to do so.

If possible, move vehicles to higher ground on (or near to) your property, or away from flood prone areas.

Clear guttering and ensure drains are free of debris.

Tie down any items that could get caught up in the wind, such as trampolines.

If possible, move outdoor furniture and barbeques inside or under cover.

Store precious belongings like photos and keep sakes somewhere dry and safe.

Ensure your pets are safe and sound.

If rural, check fencing on your property is secure, and livestock are moved to sheltered areas.

Make sure your mobile devices are charged.
AA Insurance's top tips if you have been impacted by a weather event:
Keep damaged items to be assessed if it's safe and practical to do so or take photos of items that need to be thrown out. Having photos will help speed up the assessment and claims process and will be a useful reference when confirming what needs to be replaced.

Discard any food that has been submerged in a flood (even canned goods) and throw away wooden or plastic cooking utensils, baby bottle teats and dummies if they have come into contact with floodwater as these cannot be safely cleaned.

If there are items that need to be replaced urgently, please take photos of the damaged items and hold onto any receipts for anything you purchase – this will help your claim progress faster.   
AA Insurance is here to help over the phone, email, live chat, or via WhatsApp message. Contact centre hours: 8am - 8pm Monday to Friday and 8am - 6pm on weekends and public holidays on 0800 500 216.
About AA Insurance
AA Insurance is an independently operated, New Zealand-based joint venture between the New Zealand Automobile Association (NZAA) and Vero Insurance New Zealand Limited (VINZL). Since 1994 we have demonstrated trusted expertise in home, contents and car insurance in New Zealand, and in 2018 introduced commercial small business insurance. We underwrite our own policies and sell direct to New Zealanders. Our 930+ staff look after over 480,000 customers with 970,000 policies.
We proudly partner with Variety NZ and Eden Park and have been consistently recognised by: Reader's Digest Most Trusted Brands (since 2011) and Quality Service Awards for Car, and Home and Contents Insurance (since 2015), Kantar Customer Leadership Index (since 2019), Canstar Blue Most Satisfied Customers (2011-2018), and the Colmar Brunton Corporate Reputation Index (since 2015) that recognises New Zealand's most successful companies. AA Insurance was also named Consumer NZ People's Choice award winner for car, home and contents (2019 and 2020).
AA Insurance has an AA- (Very Strong) Insurer Financial Strength Rating given by Standard and Poor's (Australia) Pty Ltd. For further information visit aainsurance.co.nz.
For more information please contact:
Media Team, AA Insurance, 027 406 1787, mediacontact@aainsurance.co.nz