30/11/2018
Sancta Maria College in Auckland won the top prize for their age category with their thought provoking video about being an ethical bystander and stepping up when seeing someone being bullied.
Bullying is a widespread issue in New Zealand and affects Kiwi kids and youth across all regions. It can have a detrimental effect on the educational development of kiwi students. Schools are intended to be a safe place for students to express themselves, learn about the world and prepare for adulthood. But fear, anxiety and stress related to bullying has been shown to result in poor educational, social and emotional outcomes for young people.
In the results of the 2015 CensusAtSchool/TataurangaKiTeKura project, students aged between 9 and 18 said that verbal abuse is the biggest bullying problem in schools. However, bullying doesn't always stay within school grounds, especially with the rise of the digital age. Modern technology, social media and apps have added a new dimension to bullying and is providing new platforms and opportunities to cause harm to others. That's why putting a spotlight on the bullying problem in schools is important in order to educate students and have them think about ways they can help.
The annual Blue Light Anti Bullying video competition, sponsored by AA Insurance, emphasises the need for everyone to be ethical bystanders - a concept that holds everybody responsible for the safety and wellbeing of those around them. Taking part in the video competition encourages primary, intermediate and secondary school students to understand the different types of bullying, the effect it has on others, and what they can do to put a stop to it. The competition, now in its fifth year, offers students the chance to not only help other students in a positive way, but to also win a $1000 cash prize for their school.
Blue Light determine themes for students to focus on for their video entries. The themes are in place to encourage students to not just think about the act of bullying itself, but the effect it can have on others and what can be done to stop it. This year's theme for primary schools was 'Verbal Bullying – Dude, that's rude don't bully!', and the theme for intermediate and secondary schools was 'The Bystander – Strong people stand up for themselves, the strongest stand up for others'.
Shortlisted video entries from around New Zealand were presented to the judging panel, containing staff members from Blue Light and AA Insurance. The entries were judged for their video creativity, including editing skills and film techniques, plus how well the video communicated their theme.
National Winners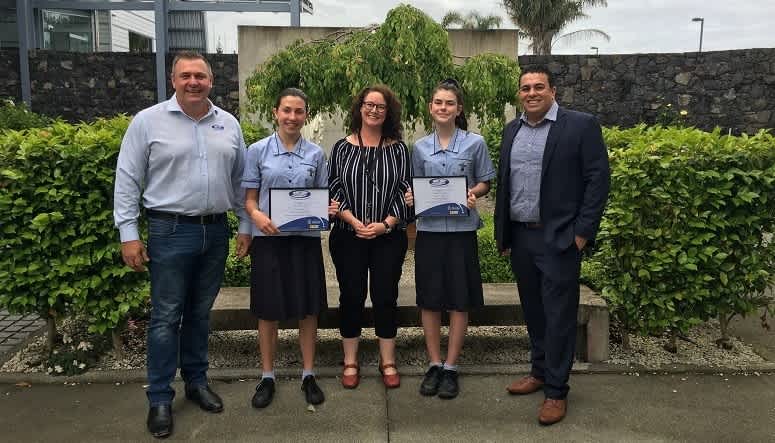 Sancta Maria College students Alex Doughtry and Emmalee Lynch stand with their certificates alongside English teacher Ms Chris Sullivan, Brendan Crompton from Blue Light and Josh Thomson from AA Insurance.
Sancta Maria College in Auckland, scooped the top prize for their age group. Blue Light and AA Insurance recently presented students from Sancta Maria College with certificates and their $1,000 cash prize during their school assembly. The students created the anti-bullying video as part of a class assessment, headed by their English teacher Chris Sullivan. Brendon, National Manager of Blue Light New Zealand said that their video stood out with its great focus on the ethical bystander message, and powerful storytelling of what happens when people stick together to help others being bullied.
The video captured the essence of the anti-bullying competition. Classmates working together to confront the bully as a collective, and using the power of the group to influence the change
Primary School category winners, Paeroa Christian School also received certificates and a $1,000 cash prize to mark their win. Their video was true to the theme and used clever film techniques and used black and white to convey the impact of bullying and the difference you can make when you stand up for someone.
Congratulations to this year's winning entries and thank you to everyone who took part in spreading the word about the bullying issue in New Zealand schools. The competition returns again next year, and we encourage all schools to get involved.
Blue Light is a registered charity that works in partnership with the New Zealand Police to deliver an extensive range of youth programmes and activities. We support Blue Light because of their great community focus and their dedication to making our young people stronger and our communities safer.
Have a question for us?
Find out why we're consistently awarded best insurer and most satisfied customers:
Make an online enquiry
Call us on 0800 500 231
8am-8pm Monday to Friday.  8am-6pm weekends & holidays