14/12/2017
Students from Ponsonby Primary School came up with such a creative way to combat bullying that they scooped the top prize in their age category at this year's Blue Light video competition.
The Blue Light Anti Bullying video competition, sponsored by AA Insurance, emphasises the need for everyone to be ethical bystanders - a concept that holds everybody responsible for the safety and wellbeing of those around them. The competition, now in its fourth year, offers primary, intermediate and secondary school students the chance to not only help other students in a positive way, but to also win a cash prize for their school.
For Primary school entries, students were asked to focus on a theme for their videos; "Verbal Bullying – what can I do to make it stop?" Our winning video entry came from Year 6 students at Ponsonby Primary School in Auckland whose imaginative and clever entry focused on a technique for kids to follow if they are being bullied called "Use your WITS". Be sure to watch their winning entry above.
Recently AA Insurance and Blue Light presented the students from Ponsonby Primary School with certificates during their school assembly, congratulating them on their winning video and great messaging. Rod Bell, CEO of Blue Light New Zealand who presented the students with the certificates said that there were over 180 fantastic Primary School entries to the competition, but this one stood out with its message and clever use of the WITS anagram.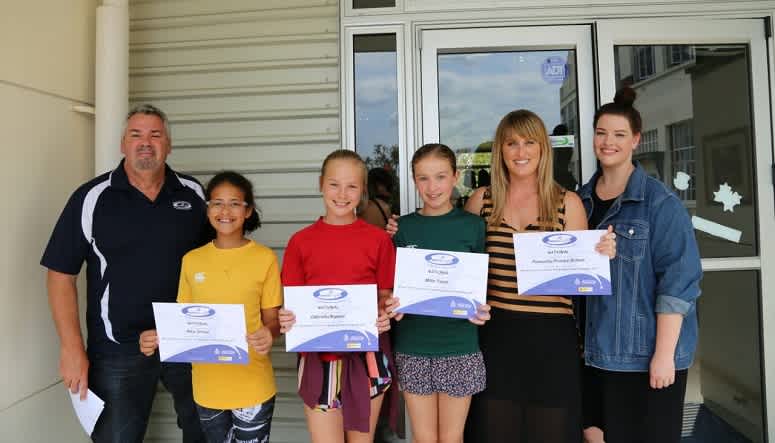 Year Six students Riley Shrive, Gabriella Napper and Millie Taylor and teacher Michala Sauerbier stand with their certificates alongside Rod Bell from Blue Light and Dianne Spaans from AA Insurance.
For intermediate and secondary school students, their theme to tackle was "Cyber Bullying – don't be afraid to ask for help". The winner of the intermediate division was Avalon Intermediate in Lower Hutt who created a rap song educating kids on what they can do if they are being bullied on Facebook. For the secondary division, St Paul's Collegiate in Hamilton won for their emotional clip on the damage social media bullying can do to a person.
The Anti-Bullying video competition will return again next year open to students across New Zealand to take part and get creative while spreading an important message.
Have a question for us?
Find out why we're consistently awarded best insurer and most satisfied customers:
Make an online enquiry
Call us on 0800 500 231
8am-8pm Monday to Friday.  8am-6pm weekends & holidays