13/03/2018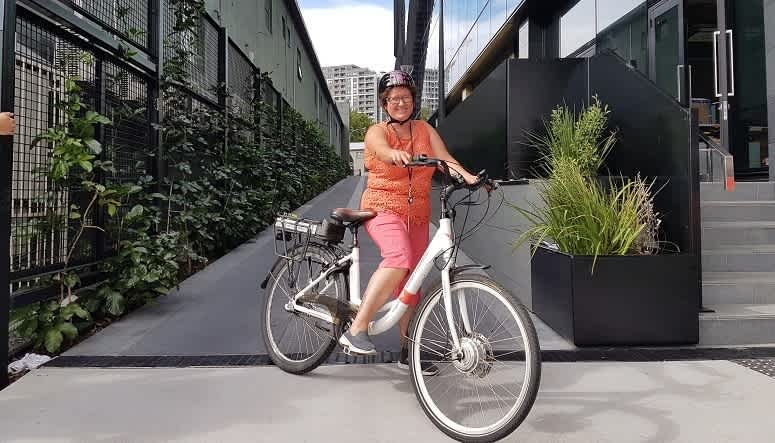 Staff member Demaris with her e-bike outside AA Insurance House in Auckland.
Electric bicycles (e-bikes) are growing in popularity, they're used for both recreation and commuting. Office workers are enjoying biking to work without arriving all hot and sweaty. Staff at AA Insurance who use e-bikes say a more comfortable ride, fluid speed, higher sitting position and efficient braking are reasons they wouldn't go back to a traditional push-pedal bike.
How do e-bikes work?
With an e-bike, the rider can choose to pedal alone or receive assistance from a built-in electric motor. Most are powered by a battery that's attached to the frame or the rear rack. This battery can be recharged by plugging it into a normal wall socket using the e-bike's charging cord – which looks a lot like a laptop charger.
E-bikes aren't just popular due to their ease of use – unlike a motorcycle, they don't require a license or registration to use. However, there are other considerations like power restrictions, so it pays to check-out the NZTA information page to ensure your e-bike meets requirements.
But, how far and how fast can you go on your e-bike?
In New Zealand, normal traffic speed restrictions apply. Cruising speeds vary greatly from bike to bike and some manufacturers limit the maximum speed, but you can expect to travel around 20-30km/h on flat ground. The distance you can go depends on the battery and how much you use it to do the pedalling for you. Most batteries have a charge indicator, generally you can expect to get around 50km out of a basic model before a recharge is needed.
The cost of an e-bike is a substantial investment. Basic models sell for around $2,000 new. Some high specification models – which are lighter and have more features – can even retail for more than $10,000.
So, if you're considering purchasing an e-bike or if you already own one, it's important to make sure you have appropriate cover in place. At AA Insurance, e-bikes are treated like regular bikes and are covered under your contents policy. Under our Contents Insurance Policy, they are automatically covered up to $5,000 (excluding accessories) and up to $2,500 (excluding accessories) under our Limited Contents Insurance Policy. You're also covered for legal liability up to $2 million if you have a policy with us. If you have multiple bicycles and the combined value of them is worth more than these event limits, remember to increase your adjustable event limit in the 'Update your policy' section on your My AA Insurance online account or get in touch. It's worth checking the details of your cover with your insurer, to make sure you're adequately insured.
Tips for happy pedalling:
When you get a new e-bike, have a few practice runs somewhere safe such as a park or field.

Ensure you've learned your gears before you take it on the road.

Remain vigilant of road traffic and wary of your speed.

Ensure you have warm clothing – especially on cool or windy days. Because you pedal less you often don't get as hot.

Use a bike lock to deter theft. If you have a removable battery – even better - you can take it with you as the ultimate deterrent!

The brakes will need to be maintained more often than a regular bike because on an e-bike you tend to brake more often.
Any questions?
Now's a great time to review your insurance. We recommend checking your details are up to date and ensuring the policy and cover you've chosen is right for you and your insurance needs.
If you have any questions about your insurance, need to update your AA Insurance policies or would like a quote, don't hesitate to contact us. We're open from 8am to 8pm weekdays and from 8am to 6pm weekends and public holidays.
This blog provides general information only and is not intended to be a recommendation or personalised financial advice. Excesses, terms, conditions, limits and exclusions apply to AA Insurance Limited's policies. Please check the policy wording for details of cover. The provision of cover is subject to the underwriting criteria that apply at the time.
Have a question for us?
Find out why we're consistently awarded best insurer and most satisfied customers:
Make an online enquiry
Call us on 0800 500 231
8am-8pm Monday to Friday.  8am-6pm weekends & holidays