10/05/2022
'Proof of ownership' is a term commonly found in insurance documents, particularly in relation to making a claim. Let's take a closer look at what is meant by it.
What is proof of ownership?
In insurance terms, proof of ownership refers to documentation that proves you have owned the item(s) you're claiming for. As well as serving the primary purpose of proving ownership, these documents can provide specific details about your lost or damaged item so we can properly compensate you for the loss.
When it comes to making a claim, having proof of ownership can make the process easier and faster. This is especially true in large scale events (e.g. home burglaries) and for high value items such as jewellery.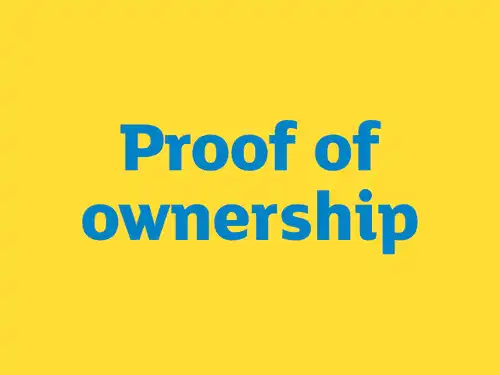 An example of proof of ownership
Kara purchased a new laptop in 2016. When it was stolen a few years later, she still had the order confirmation and e-receipt linked to her email account. Kara sent these documents to her insurer at the beginning of the claims process and they were able to verify the precise make and model of Kara's laptop.
Since Kara's laptop model was no longer available for purchase, her insurance company paid her the market value of the laptop instead. The market value refers to the reasonable retail value of an asset immediately before it was lost or damaged.
Other examples of proof of ownership that your insurer may accept include:
Purchase receipts

Valuations

Financial statements

Instruction manuals

Photos of the item

Shop records
It's a good idea to keep receipts and valuations of high value items in your possession and digitise them. If you're unsure of what counts as proof of ownership for a specific item, ask your insurer for advice.
Key takeaways
Purchase receipts, valuations, financial statements, instruction manuals, photos or shop records may be accepted as proof of ownership by your insurer. When it comes to making a claim, having proof of ownership can make the process easier and faster.
Any questions?
Now's a great time to review your insurance. We recommend checking your details are up to date and ensuring the policy and cover you've chosen is right for you and your insurance needs.
If you have any questions about your insurance, need to update your AA Insurance policies or would like a quote, don't hesitate to contact us. We're open from 8am to 8pm weekdays and from 8am to 6pm weekends and public holidays.
This blog provides general information only and is not intended to be a recommendation or personalised financial advice. Excesses, terms, conditions, limits and exclusions apply to AA Insurance Limited's policies. Please check the policy wording for details of cover. The provision of cover is subject to the underwriting criteria that apply at the time.
Have a question for us?
Find out why we're consistently awarded best insurer and most satisfied customers:
Make an online enquiry
Call us on 0800 500 231
8am-8pm Monday to Friday.  8am-6pm weekends & holidays