Understanding your excess
August 18th, 2022
'Excess' is a term you will come across when looking into insurance and it's important to understand what it means so that you can plan accordingly and ensure there aren't any surprises at claim time.
What is an excess?
An excess is the amount you pay when you make a claim – you pay a contribution towards the claim and your insurer pays the rest of the costs.
When you first take out your policy and each year upon renewal, you can choose an excess to suit your situation. Most insurers will offer a range of options. You can choose to set a higher excess, which will lower your overall premium (the sum you pay fortnightly, monthly or yearly for your insurance), but you will need to pay this higher excess amount at claim time. Sometimes additional excesses may apply, for example because of a driver's age or experience.
You'll pay an excess each time there is an event or instance of loss or damage you make a claim for. You'll need to pay a separate excess for all individual instances of damage caused, even if all the damage is found at the same time (for example, during a rental inspection). So, for example, if you are in the process of re-decorating and you scratch your wooden floor when moving the furniture. Later, you accidentally drop a tin of paint on the floor and make a dent, you will need to pay an excess for each of these instances of damage as these would be classed as two separate events.
Your insurer may deduct your excess from any settlement amount, depending on your claim. However, if you are in a motor vehicle accident for which you are not at fault and the other party accepts liability, your insurance company may waive your excess in certain circumstances, although policy requirements must still be met. That's why it is so important to gather the details of other parties involved in the accident.
At AA Insurance, if you have more than one policy with us, you'll only pay one excess per event, so, if your car gets stolen with your handbag in it, leading you to claim on your car and your contents policies, you will only need to pay one excess.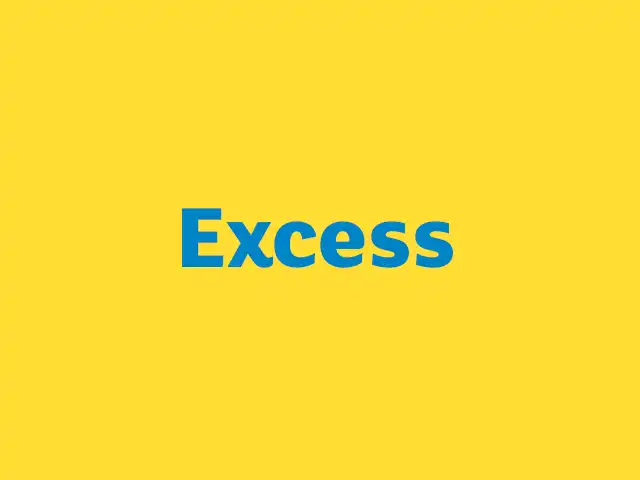 An example of an excess
When Tom set up his contents insurance policy, he insured his stuff for the value of $22,000 and chose a $400 excess, which he would only need to pay at claim time. His premium was around $400 a year, which he paid in a single instalment. A few months after he took out his insurance, his house was broken into and $15,000 worth of his household possessions were stolen or damaged. He paid his $400 excess upfront and his contents were replaced new for old or settled at market value.
Elizabeth insured her belongings to the same value as Tom and chose a higher excess of $800 because she wanted to lower her premium to $200 a year. When her possessions were destroyed in a house fire, she took $800 out of her savings to cover the excess and her insurer paid the cost to repair and replace her damaged contents to get her back to where she was before the fire.
Key takeaways
An excess is the amount you pay when you make a claim, and your insurer pays the rest of the costs to get you back to where you were before the event. You can work with your insurer to set your excess, but it's important to remember that, if you agree to pay a higher excess to lower your premium, you need to make sure you can afford this amount at claim time.
Any questions?
Now's a great time to review your insurance. We recommend checking your details are up to date and ensuring the policy and cover you've chosen is right for you and your insurance needs.
If you have any questions about your insurance, need to update your AA Insurance policies or would like a quote, don't hesitate to contact us. We're open from 8am to 8pm weekdays and from 8am to 6pm weekends and public holidays.
This blog provides general information only and is not intended to be a recommendation or personalised financial advice. Excesses, terms, conditions, limits and exclusions apply to AA Insurance Limited's policies. Please check the policy wording for details of cover. The provision of cover is subject to the underwriting criteria that apply at the time.