05/05/2017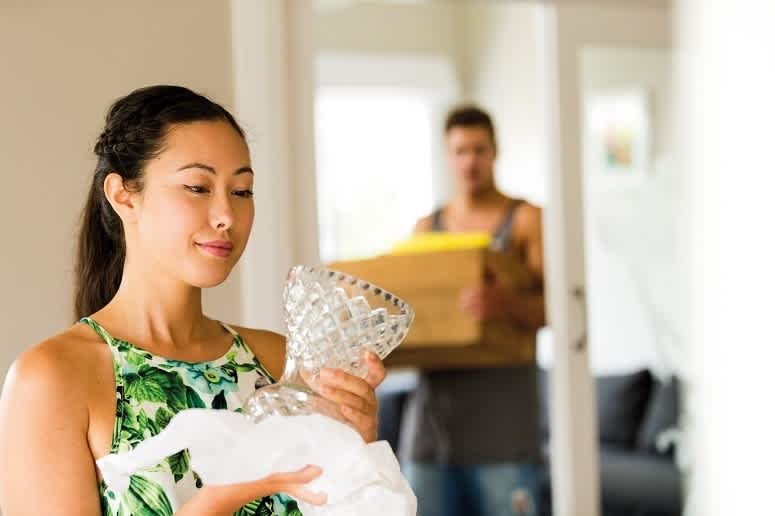 Moving house or flat is often a stressful time in life, but a little preparation can go a long way. So before you start wrapping and packing, consider this handy checklist:
1. Are you covered?
Check your contents insurance policy to make sure you know what you're covered for while your belongings are in transit. If you're using a moving company it's a good idea to take out the insurance cover they offer too. And remember to make contact with your insurer to tell them you're moving so you can transfer cover to the new place; you'll need to do this for your home insurance too if you own the place.
2. Timing is everything
Give yourself enough time to pack properly rather than leaving it to the last minute – this will help you be more organised and less stressed. It also pays to have enough time at the other end of the journey, so you're not in a rush to unpack on a Sunday night before work the next day.
3. Ways to connect
If you're setting up a new place, then organise the utilities to be connected before you arrive, as well as disconnected from your old home after your leave. And don't forget about getting your mail forwarded to your new address.
4. Do it once, do it right
It pays to pack properly, especially if your belongings have a big journey ahead of them. Professional packers will wrap and box everything, but if you're moving things yourself, invest in plenty of bubble wrap, heavy boxes and packing tape to keep your belongings from being broken. Start by placing the heavy things at the bottom of the box and the fragile items on top. Movers' blankets are great to wrap around furniture, to protect them from scratching while in transit, or from getting wet.
5. Get some help
Ask friends and family to pitch in at one, or both, ends of the journey; as the saying goes, more hands make light work. Don't forget to feed and water them regularly – to keep their strength up and their blood pressure down – and, if you can, it's always nice to be able to return the favour at some stage.
6. It's all in a name
 Have boxes labelled for each room, rather than throwing random items together. It will help with your unpacking, and also give your helpers a head start on where all those boxes should go without you having to micromanage. If you want to take it one step further, put a list of the contents on the outside of the box as you pack it, then you'll know exactly where the tin opener, towels and kids' toys are.
7. First things first
When you arrive at your new home and start unpacking, make your bed. There's nothing worse than being tired and grumpy from unpacking at the end of the day to find an unmade bed covered in stuff.
8. If you have children
Make moving an adventure by giving them some fun things to do and be involved in the move, like packing their own moving boxes, and drawing pictures on the top to show what's inside. Keep them well fed and hydrated so they don't overtire and have a few toys and bedding on hand when they need a break. If they have plenty of energy, take a short walk to help them check out their new surroundings, although if they're very small then perhaps have them spend the day with friends or family.
9. If you have pets
Moving can be a stressful and confusing time for animals so if possible leave them with a friend or in care or keep them to their normal routine as much as possible but out of the way of the main action. When introducing them to your new home, it often pays to have the familiarity of bedding and toys where they're normally kept such as your room or the laundry, and their water bowl where it would normally go. Keep them confined until they are used to their surroundings.
10. Beware of thieves
Be careful loading and unloading your vehicle and never leave it unattended with the doors open while you make a quick trip indoors. Opportunistic thieves may decide to move some of your gear for you – into their own home. Also remember to dispose of your moving boxes carefully when you arrive, especially if you have labelled all your items on the outside – you don't want to advertise to thieves.
Any questions?
Now's a great time to review your insurance. We recommend checking your details are up to date and ensuring the policy and cover you've chosen is right for you and your insurance needs.
If you have any questions about your insurance, need to update your AA Insurance policies or would like a quote, don't hesitate to contact us. We're open from 8am to 8pm weekdays and from 8am to 6pm weekends and public holidays.
This blog provides general information only and is not intended to be a recommendation or personalised financial advice. Excesses, terms, conditions, limits and exclusions apply to AA Insurance Limited's policies. Please check the policy wording for details of cover. The provision of cover is subject to the underwriting criteria that apply at the time.
Have a question for us?
Find out why we're consistently awarded best insurer and most satisfied customers:
Make an online enquiry
Call us on 0800 500 231
8am-8pm Monday to Friday.  8am-6pm weekends & holidays