01/07/2021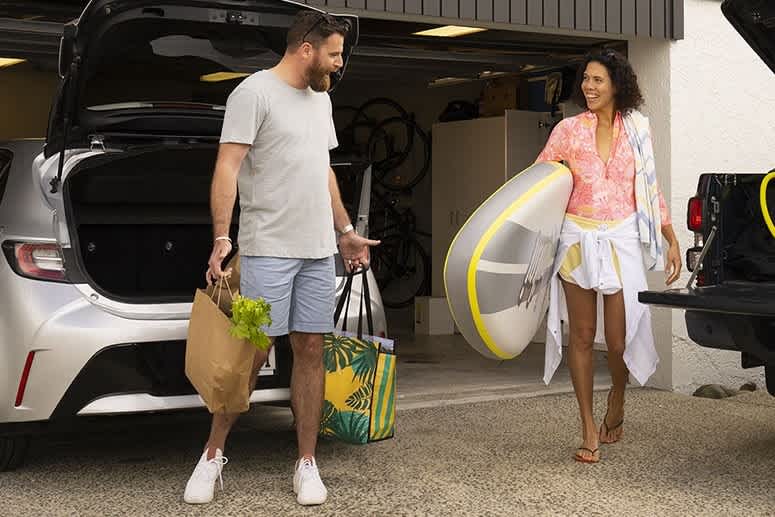 Here's a great way to get started and get to grips with what contents insurance is – how it works, why you need it, what it covers and what it doesn't. This is one of a series of articles that cover what you need to know about contents insurance.
Some people think they don't need contents insurance. "I haven't got much stuff" is something we hear a lot.
It's true. We're all different and we all have different belongings - and different amounts of them. But the one thing we're all likely to have in common is that we all own more stuff than we think! And we all want to protect it.
Just take a moment to look in a couple of rooms at home and do a quick calculation of the value of what's in there. It's not just the laptops, the jewellery and the clothes. People often forget about the more common household items like bed linen, pots and pans, and books.
You may be surprised how quickly it all adds up. In fact in 2020, the average renters' contents we insured was $46,000, and our average home owner contents cover was $82,000.
But working out how much cover you need is only one factor in choosing contents insurance. What's more important is to make sure your policy has the right level of cover to meet your needs.
1. What does contents insurance cover?
Let's start with the basics. Contents insurance is designed to protect the personal property in your home, giving you peace of mind should something happen to your belongings. Because, even if you're really careful, you can't control unexpected events like extreme weather, a burglary or a fire.
Could you afford to replace potentially all of your belongings, all at once? Could you afford the additional cost to rent another place to live in if your home is damaged and uninhabitable?
Most people can't. And that's when contents insurance comes in. This kind of insurance pays for you to replace any covered items that are damaged, lost, stolen or destroyed - depending on the kind of policy and level of cover you have.
2. What are the different types of contents insurance and levels of cover?
Different insurance companies offer different kinds of cover, and the amount you pay will vary based on the total value of your contents, the level of cover you have and what kind of excess you are prepared to pay.
At AA Insurance, we have two levels of contents insurance:
Our Contents Insurance Policy is our most comprehensive policy, which provides cover for accidental loss or damage as well as the bigger types of events which can happen.

Whereas our Limited Contents Insurance Policy may suit you if you only want to cover those events which are hardest to recover from, such as burglary, storm, fire, flood and natural disaster. This policy does not cover you for accidental damage – caused by yourself or others.
You can customise your policy with optional benefits. Cover for accidental loss, accidental damage and theft to mobile phones, or laptops, notebooks and tablets can be added to our Limited Contents Insurance Policy (these are automatically included in our Contents Insurance Policy). Cover to reduce your excess for hearing aids and/or eyewear can be added to our Contents Insurance Policy. You can find out more and compare our two contents insurance policies on our website.
Both of our policies will cover your contents 'New for Old'. This means that if something you own is stolen or damaged beyond repair - we'll replace the item with a new one or with the nearest available equivalent. While most items will be covered by new for old cover, certain items such as clothing, footwear and cosmetics, or those items which don't have an equivalent replacement item available, will be settled at the market value.
3. What's covered and what's not?
Every insurance company is different. So it pays to check exactly what your contents policy will cover you for and, most importantly, what it won't.
At AA Insurance, we have two different policies with optional benefits that enable you to get the policy that covers what you need.
Head to our Choosing the right contents insurance policy blog for examples of different situations on how you could be covered by our contents policies.
At AA Insurance, we don't need our customers to individually list high value items on their policies. Instead, we've designed our policies to make things easy for you with both fixed and adjustable event limits. But what are these event limits and what do they mean for you? Let's break it down:
An event is a sudden and unforeseen occurrence that causes loss or damage that you do not intend or expect. An event limit is therefore the maximum amount we will pay for that category of contents (e.g. jewellery) for each event. 

A Fixed Event Limit means that the event limit is set for that category of contents and it cannot be adjusted. Drones (including their parts and accessories) are an example of a category of contents that have their own fixed event limit of $5,000 for Contents Insurance and $1,000 for Limited Contents Insurance.

An Adjustable Event Limit is one that you can increase if the policy limit isn't sufficient to cover that category of your contents. For example, if the standard limit of your policy doesn't cover all the valuable jewellery you own, you can adjust this to give you an amount of cover that's just right for you.
It's safe to say that if you have anything particularly valuable, it pays to check your event limits and increase them to suit your needs.
4. What is legal liability cover?
Contents insurance isn't just about damage or loss to your things. Often accidents or 'events' involve other people and other people's things.
Put simply, if you damage someone else's property, even accidentally, then you could be legally liable to pay for that. For example, if your supermarket trolley took off down a slope, causing damage to another shopper's car, you could be legally liable for that damage. If you have a contents insurance policy with AA Insurance, this will help you to pay for damage like this that you are legally liable for, up to $2 million.
Not all insurance companies offer this much legal liability cover, so do check. The cover also extends to those within your household, including pets. But if you're flatting it only covers you, so it's important each person in a flatting situation has their own contents insurance.
5. How to estimate the right amount of cover
OK, so now you know what contents insurance is and why you need it, how much do you need?
Not too much, not too little, but just the right level of cover is what we believe. And we can help with that. Use the handy online calculator to work out how much cover you will need for your trusted belongings. You can either use you address to access an independent estimate, or use the 'Edit your Contents' options to check the breakdown room-by-room and make changes.
If you need any help, just get in touch. 
6. How your policy options could reduce your costs
The choices you make when setting up your policy will allow you to get the peace of mind you need, while working within your budget.
Often, having more than one insurance policy with one insurer will make you eligible for a discount. You may be eligible for AA Insurance's Multi Policy Discount if you have more than one eligible policy with us. 
Having all your policies with one insurance company can also make it easier if you need to make several claims for one accident. And if you're claiming for one event, you may only need to pay one excess. AA Insurance's 'one event, one excess' cover means that, if your car is broken into, the windows are smashed (covered on your Car Insurance) and your handbag is stolen from inside the car (covered on your Contents Insurance), you'll just pay the highest applicable excess instead of needing to pay an excess under each policy. It's also worth checking for any other discounts that may be on offer. For example, AA Members get exclusive discounts on AA Insurance policies by simply providing their personal AA Membership number when taking out or renewing eligible policies.
Any questions?
Now's a great time to review your insurance. We recommend checking your details are up to date and ensuring the policy and cover you've chosen is right for you and your insurance needs.
If you have any questions about your insurance, need to update your AA Insurance policies or would like a quote, don't hesitate to contact us. We're open from 8am to 8pm weekdays and from 8am to 6pm weekends and public holidays.
This blog provides general information only and is not intended to be a recommendation or personalised financial advice. Excesses, terms, conditions, limits and exclusions apply to AA Insurance Limited's policies. Please check the policy wording for details of cover. The provision of cover is subject to the underwriting criteria that apply at the time.
Have a question for us?
Find out why we're consistently awarded best insurer and most satisfied customers:
Make an online enquiry
Call us on 0800 500 231
8am-8pm Monday to Friday.  8am-6pm weekends & holidays