08/02/2018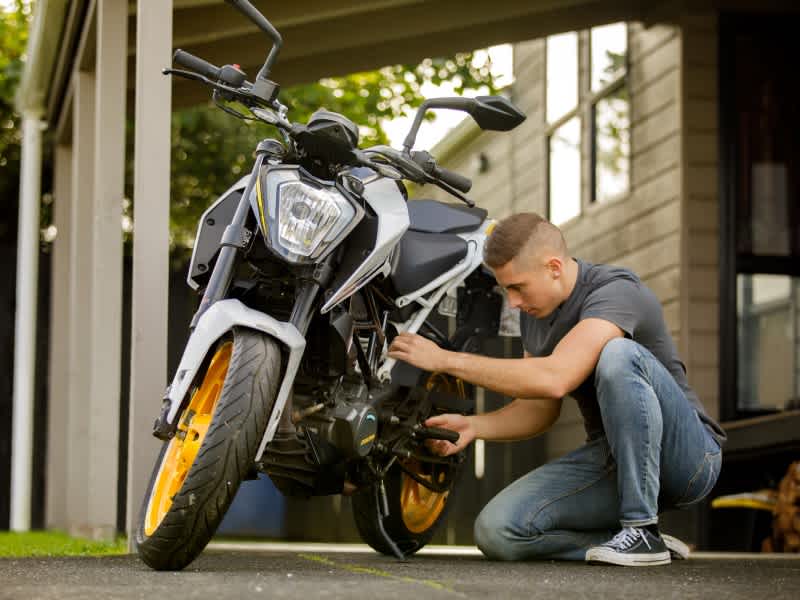 We're well into motorcycle season with many riders taking to the roads to make the most of the long, warm days. While you're enjoying the incredible New Zealand scenery, bear these tips in mind to ensure you and your ride stay in good nick:
1. Critical checks
It only takes a couple of minutes to run through these checks and keep you safe on the road:
Fluids Check your fluid levels - remember to ensure your bike is on flat ground. Most bikes have a sight glass on the brake fluid reservoir so you can see the fluid. For engine oil, check the levels are between the minimum and maximum by using the window on the side of the engine. Some bikes have a dipstick instead - be sure to wipe it clean before you take your reading.
Lights  Check your headlights, brake lights and indicator lights are working and in good repair.
Tyres Check the air pressure of your tyres. Your service manual will tell you the correct pressure. At the same time, inspect your tyres for low tread and flat spots, cracks and foreign objects.
Remember to ask a mechanic if you're not sure about any of these things.
2. Slip, slop, slap… and wrap
It's easy to forget sunblock when you're head-to-toe in leather and protective clothing, but there are lots of spots where sunburn can sneak through. Look out for gaps in your gear, such as at the wrists and collar area.
Tip: Don't forget your face either - many visors don't contain UV protection. If you'll be riding into the sun, keep a pair of sunglasses handy to protect your eyes and help prevent sunstrike.
As for your bike, it's a good idea to give it a wash and wax before you take to the streets. This helps your bike shed road dust and water, and protects it from New Zealand's harsh sun, keeping your paint and chrome shiny and glossy for longer.
3. Never ride naked
Riding without a licence, WoF, proper gear or insurance is a false economy.
Fact: According to the Ministry of Transport, the risk of being injured on the road is 21 times greater for motorcyclists than for car drivers. 
4. Ensure you're fully covered
Check your WoF and registration are up-to-date

Wear protective clothing – it's the only thing between you and the asphalt

Have the appropriate licence for your motorcycle's engine size

Ensure you have the right insurance, and know what you'll be covered for in the event of an accident, including your legal liability.
For more information on motorcycle safety, check out Ride Forever or the NZTA's information on motorcycling.
Any questions?
Now's a great time to review your insurance. We recommend checking your details are up to date and ensuring the policy and cover you've chosen is right for you and your insurance needs.
If you have any questions about your insurance, need to update your AA Insurance policies or would like a quote, don't hesitate to contact us. We're open from 8am to 8pm weekdays and from 8am to 6pm weekends and public holidays.
This blog provides general information only and is not intended to be a recommendation or personalised financial advice. Excesses, terms, conditions, limits and exclusions apply to AA Insurance Limited's policies. Please check the policy wording for details of cover. The provision of cover is subject to the underwriting criteria that apply at the time.
Have a question for us?
Find out why we're consistently awarded best insurer and most satisfied customers:
Make an online enquiry
Call us on 0800 500 231
8am-8pm Monday to Friday.  8am-6pm weekends & holidays