07/07/2022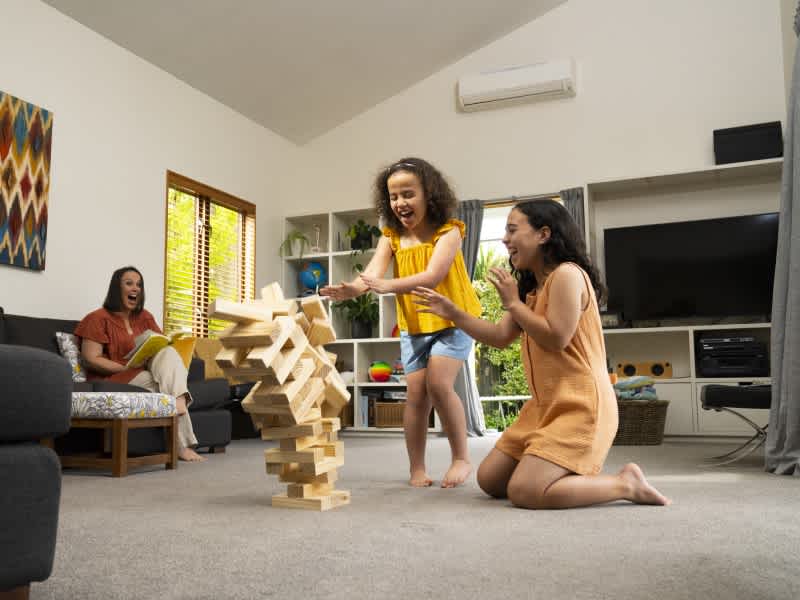 The memories of time spent as a child building dens, playing with your favourite toys and making mischief around the house brings a smile to most of our faces. But the reality, as an adult, of trying to keep your house tidy when you have kids of your own is a lot less fun. Here are a few of our favourite tips to help you sort your kids' space out.
Where to begin
The more the merrier: get the kids involved. It is, afterall, their space and if they're part of the process, they are more likely to pick up good habits and feel invested in keeping it tidy in the long term.

Make a plan: how big is the job? Could you tackle it in a day or a weekend? If that feels overwhelming, you could break it down into sections to work through over the course of, say, a month. Filtering through your belongings can be emotionally and physically tiring both for you and for the kids, so be realistic about how much time you allocate to the task.

Have fun: put your family's favourite songs on the speaker, plan a few fun breaks and reward yourself and your little helpers when you reach significant milestones. As you declutter, you'll need boxes to use as storage – decorating shoe boxes could be a fun activity for the kids to get creative halfway through the day.
Time for action
Sort it out: prepare four boxes to help you sort through items in the room. In these boxes, you could put stuff 1) to sell, 2) to throw out, 3) to donate and 4) to recycle.

Categorise: start from the ground up and put similar items into categories. For example, you might put all the toy trucks in one pile and the dolls in another. Sorting them into categories quickly reveals how many your child has of each. If they have twenty-five toy cars, it might be worth letting the child choose a specific number to keep.

Declutter: if they've grown out of an item of clothing, a specific toy or a book, it might be time to part ways with it and add it to the pile of stuff to sell or donate.
Bringing calm to the chaos
Box it up: now you've sorted through everything, it's time to find your storage boxes. You could go out and buy new storage boxes or use the customised shoe boxes mentioned in Step 1. Mason jars are a great storage solution to keep small toys and trinkets in one place.

Adding storage: is there space to add a shelving unit, an additional cabinet or wardrobe? Can shelves be fixed onto the walls to store books and display special toys?

Give things a home: work with your little helpers to give every object a home, a place for it to belong. This idea resonates with children and may help them put things in the right place in the future.
Preparing for the unexpected
Kids can cause chaos without meaning to. Home and contents insurance can help cover the cost of both the minor incidents, like kids breaking your laptop or scribbling on your new white furniture, and the major incidents, like them accidentally leaving the kitchen tap on and flooding the ground floor. Some incidents can be small and easy to rectify, others are a life lesson in expensive mistakes. If you have children, it pays to take out contents insurance; not only to protect your own property, but your legal liability for damage to someone else's.
And finally…
As you start on your decluttering project, you maybe surprised by how much stuff you have in your house. You might think it isn't worth much, but it could cost more than you expect to replace it all at once. This handy contents calculator, independently provided by Sum Insured, can help calculate the value of your contents so that you have enough cover to replace your belongings if you come to make a claim. If you have an existing contents policy with us and you need to amend your sum insured, you can do that online through My AA Insurance, or over the phone on 0800 500 213.
Any questions?
Now's a great time to review your insurance. We recommend checking your details are up to date and ensuring the policy and cover you've chosen is right for you and your insurance needs.
If you have any questions about your insurance, need to update your AA Insurance policies or would like a quote, don't hesitate to contact us. We're open from 8am to 8pm weekdays and from 8am to 6pm weekends and public holidays.
This blog provides general information only and is not intended to be a recommendation or personalised financial advice. Excesses, terms, conditions, limits and exclusions apply to AA Insurance Limited's policies. Please check the policy wording for details of cover. The provision of cover is subject to the underwriting criteria that apply at the time.
Have a question for us?
Find out why we're consistently awarded best insurer and most satisfied customers:
Make an online enquiry
Call us on 0800 500 231
8am-8pm Monday to Friday.  8am-6pm weekends & holidays