18/10/2022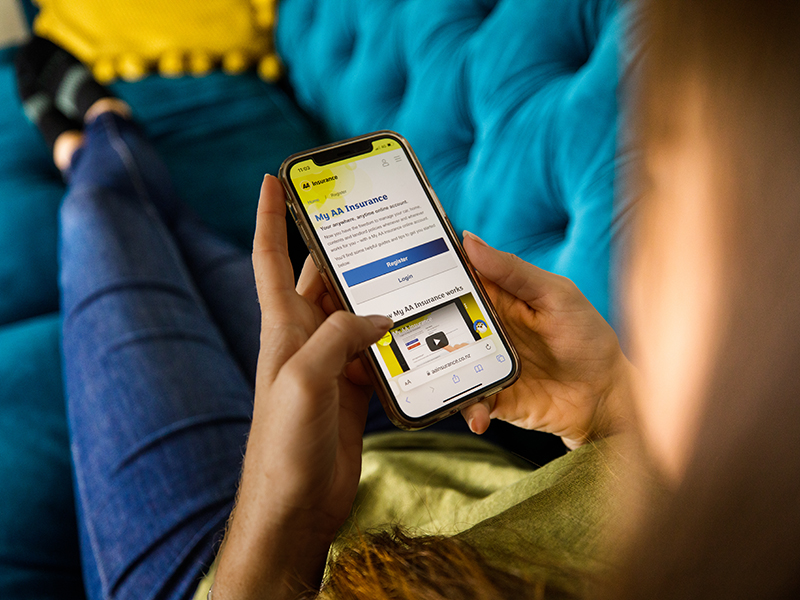 What happens when your insurance policy comes up for renewal? Here's some information on what to expect from the process.
What is a renewal?
An insurance policy is an agreement between you and your insurance company which lasts for one calendar year. At the end of the year, if you want to continue having insurance with the same provider, you'll need to renew your insurance. At renewal time, it's important that you review your policy and make any changes you need to your cover, as this information will play a part in determining your new premium.
What to do before renewal
It's important to review your insurance regularly and renewal provides a good opportunity to check that the policy you've chosen is still right for you and that your details are up to date. For car, home, contents and landlord policies, you can review the details of your cover and make changes on your My AA Insurance account. If you don't have a My AA Insurance account, it's quick and easy to register for one on our website. Otherwise, visit your local AA Centre or give us a call on 0800 500 213.
Before you receive your renewal notice, you can:
update your contents sum insured: your contents sum insured is the total amount your contents are covered for. If you've made any purchases during the year or received any significant gifts, make sure they are included in your sum insured. This handy contents calculator, independently provided by Sum Insured, can help you to calculate an estimate of the value of your contents.

check your home sum insured: your home sum insured is an estimate of the total amount it would cost to rebuild your home. There are several ways you can calculate your sum insured: you can contact an expert such as a builder, architect or quantity surveyor, or you can use the online Cordell Sum Sure Calculator which estimates typical building costs for standard residential homes. It's important that when you use the calculator you are as accurate as possible, as, for many insurance providers, the sum insured is the maximum amount that will be paid to you if your home is destroyed in a natural disaster. Read our blog to find out more.

review your car's agreed value: if your car is insured for an agreed value (rather than a market value), you can review it each year upon renewal. You should review the agreed value to ascertain whether it could be enough for you to replace the vehicle you have insured with another of the same make, model, and specifications. As your vehicle gets older it may depreciate in value. In those circumstances, it's normal for the agreed value to decrease when you renew your policy. At AA Insurance, we insure all vehicles for an agreed value, which you can find on your policy schedule or by logging into your My AA Insurance online account.
When can I renew?
The renewal process will be different with every insurer and vary slightly according to your preferred payment method. If you're a customer with AA Insurance, you can expect to receive your renewal letter and schedule by email or in the post one month before your policy comes to an end. Once you have received your documents, if you would like to pay upfront for the year you don't need to wait until the day your policy expires; you can do it straight away by one of the following ways:
If you currently pay annually, you have until the date specified on your letter to renew. If you renew in the 30 days between receiving your letter and the specified cut-off date, your cover will roll over for the next calendar year.
If you currently pay by direct debit, your schedule and letter will outline your new total premium and the date that your first instalment will be deducted. You do not need to do anything as your policy will rollover automatically unless you cancel.
The renewal process
Every insurance provider will have its own process for renewals. Here's an idea of what you can expect if you're a customer with AA Insurance.
Receive your renewal letter and policy schedule: a calendar month before your policy expires, you will receive your notice over email or in the post, inviting you to renew before a specific date.

Review your renewal pack: read your letter and new policy schedule and take note of any changes to your cover and your new premium amount. On your letter, you'll see this year's premium, last year's premium and a percentage to show how much your premium has changed. Here is some information on what factors impact your insurance premium.

Make changes to your insurance values: review your personal details and make sure your sum insured or agreed value are up to date. The sum insured or agreed value for your policy can be found on your Policy Schedule.

Renew in-person, online or over the phone: if you're happy with the details in your renewal pack, it's easy to renew your policy. You can pay your premium in-person at an AA Centre, online at aainsurance.co.nz/pay or via My AA Insurance, through internet banking or by calling us on 0800 500 213.
What will my AA Insurance renewal pack look like?
At AA Insurance your renewal pack will be made up two documents named the renewal letter (includes all your payment information) and policy schedule (includes details of what's insured). Both contain important information that you will need to check.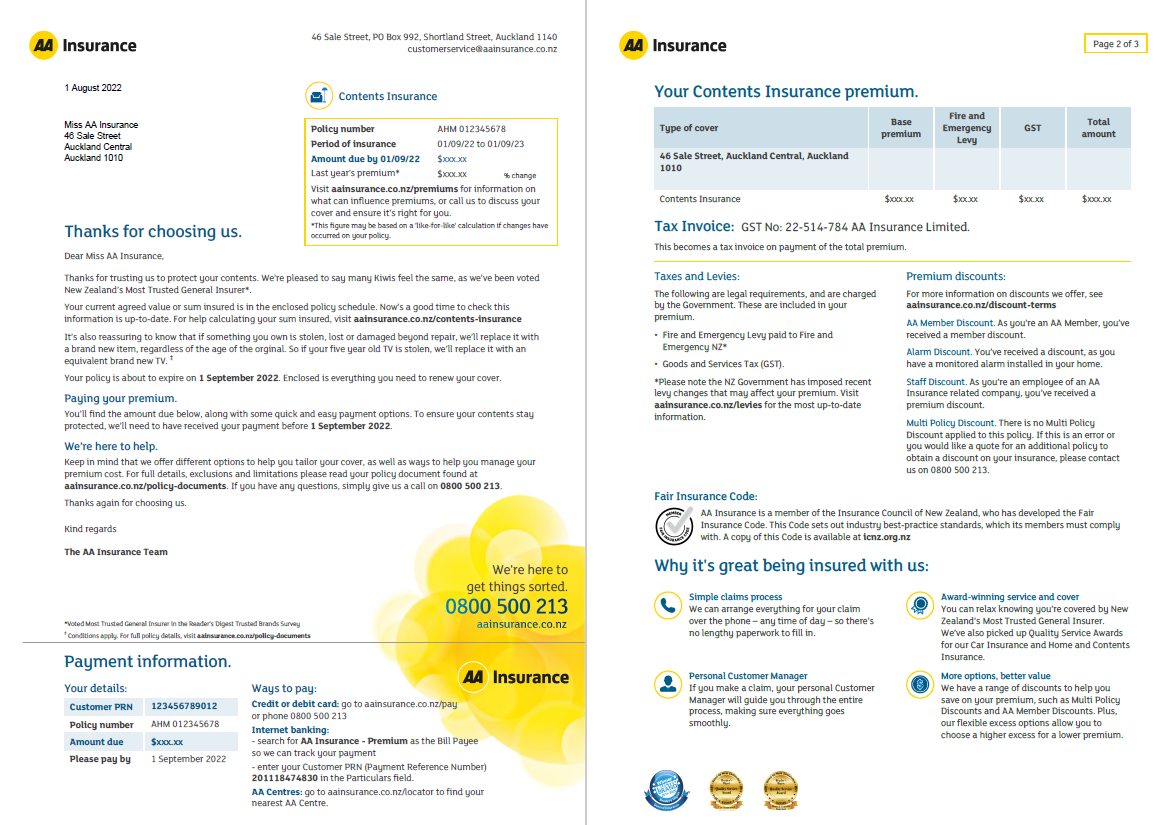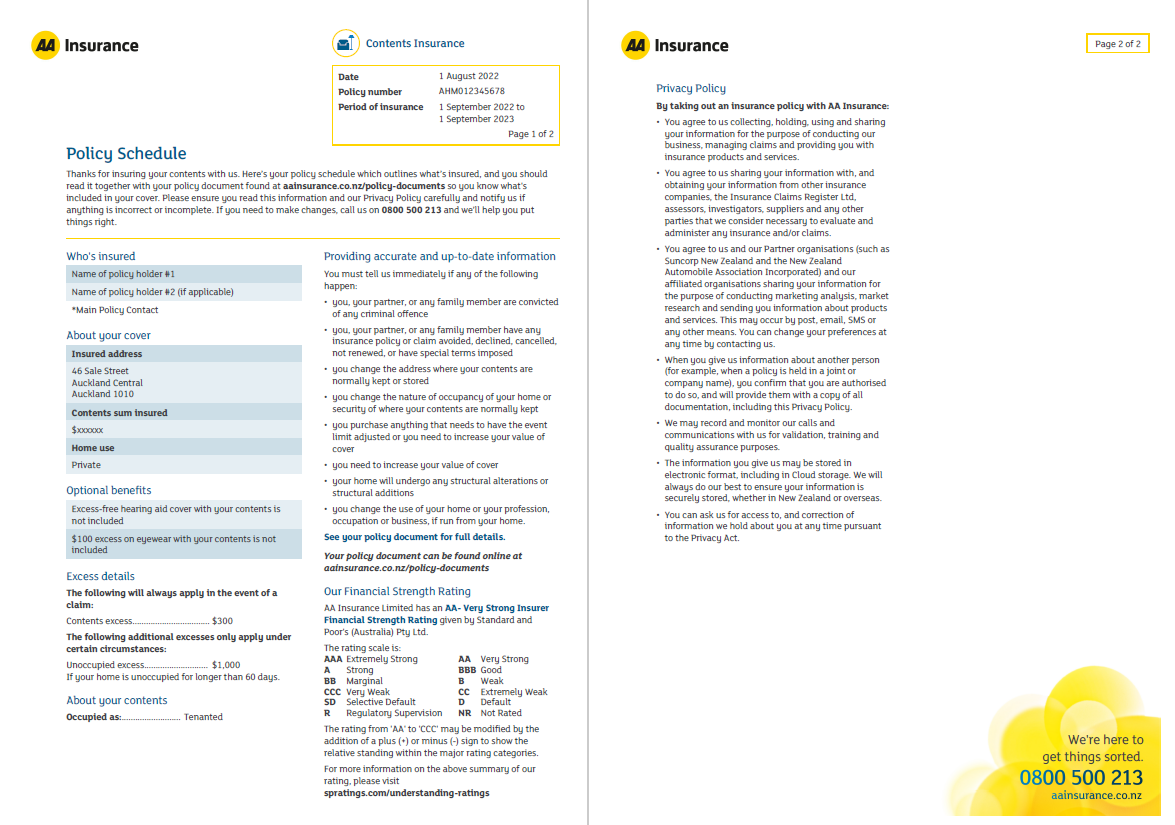 Above: example policy letter for contents insurance
Key information:
Top right yellow box: policy type, date of letter, policy number, period of insurance, total premium due, total price difference from last year's premium

Date your policy will expire on / date you will need to renew by

Payment information for customers who pay annually. This will include:

Customer PRN – your personal reference number

Policy number

Amount due

Date payment due by

Payment information for customers who pay by direct debit. This will include:

Date your policy renews

The date your first instalment will be taken

Information on Taxes and Levies

Information on any Premium discounts

Information on the Fair Insurance Code
Above: example policy schedule for contents insurance
Key information:
Top right yellow box: policy type, date of letter, policy number, period of insurance

Who's insured – the names of persons(s) covered by the policy

About your cover – important information relating to your chosen cover

Total sum insured or agreed value

Excess details

Information on providing us with up-to-date information

Information on our Financial Strength Rating

Information on our Privacy Policy
You can find out more about renewal time on the Renewal Hub.
Any questions?
Now's a great time to review your insurance. We recommend checking your details are up to date and ensuring the policy and cover you've chosen is right for you and your insurance needs.
If you have any questions about your insurance, need to update your AA Insurance policies or would like a quote, don't hesitate to contact us. We're open from 8am to 8pm weekdays and from 8am to 6pm weekends and public holidays.
This blog provides general information only and is not intended to be a recommendation or personalised financial advice. Excesses, terms, conditions, limits and exclusions apply to AA Insurance Limited's policies. Please check the policy wording for details of cover. The provision of cover is subject to the underwriting criteria that apply at the time.
Have a question for us?
Find out why we're consistently awarded best insurer and most satisfied customers:
Make an online enquiry
Call us on 0800 500 231
8am-8pm Monday to Friday.  8am-6pm weekends & holidays